County Antrim man 'kept footage of woman's assault as trophy'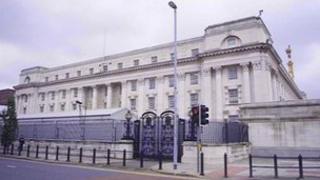 Mobile phone footage of a woman's hair being burnt and shaved was kept as a trophy, the High Court has heard.
Nathan Telford, 22, from Ahoghill, County Antrim, was refused bail after the court heard material on his phone showed a woman being abused and beaten.
He is accused of assault causing actual bodily harm and two counts of attempted grievous bodily harm with intent.
Mr Telford was arrested last year after his phone was seized by detectives investigating an unrelated matter.
A number of others were also arrested after the phone was found to contain a video recording and photographs of the victim allegedly being abused by Mr Telford and the other suspects.
It is believed the victim, a woman described as a vulnerable person, suffered the abuse some time before the end of May last year.
'Shocked'
A prosecuting lawyer said the footage showed the group beating the woman while she was unconscious, and scrawling letters on her head.
He added: "When the injured party awoke she discovered that her hair had been cut, burnt and shaven in places.
"There were letters penned on to her head and she had no recollection of the incident having occurred.
"She stated that she didn't immediately contact police as she was shocked, traumatised and very afraid."
Speaking about the photographs, he added: "Police believe these to have been what is referred to as trophy images of the abuse suffered."
Defence lawyers said that as a female co-accused had been granted bail, so should Mr Telford.
"When one looks at these photographs there is a shock factor. However, it must be taken into account that she [the co-accused] is as clearly in these photographs on the Crown case as he [Mr Telford] is," the lawyer said.
The defence also said Mr Telford's fiancée is due to give birth.
However, the judge refused bail as any imposed conditions could not outweigh the risk of Mr Telford offending.