Smoking ban: Western Health Trust becomes smoke-free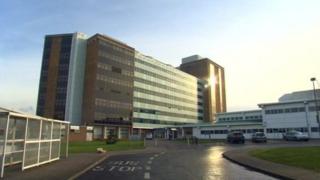 A complete ban on smoking has come into force on all the Western Health Trust's sites, including the grounds of Altnagelvin Hospital in Londonderry.
Patients, staff and visitors will not be able to smoke at the entrance of the trust's buildings, car parks or inside their own cars on trust premises.
The new rule has been introduced to coincide with No Smoking Day.
The Western Trust is the first health authority in Northern Ireland to ban smoking in its grounds.
About 360,000 people in Northern Ireland - 20% of the population - are smokers.
The Western Trust's head of health improvement said the aim was to eventually "make it unthinkable for anyone to smoke on health and social care facilities right across Northern Ireland".
"We are a healthcare facility, we are a health-promoting organisation and we need to lead by example," said Dr Maura O'Neill.
"When we asked the public and our staff if this was the right thing to do, 70% of staff and 76% of the public agreed."
Dr O'Neill said that rather than appointing wardens to enforce the ban, "it's every staff member's responsibility in the trust to approach someone if they're smoking to ask them if they've thought about quitting and offer them support".
"We do know this is going to be challenging - we don't expect this is going to happen overnight," she said.
"People may feel they don't want to go up and ask someone to stub out their cigarette - we have training and support in place to allow that to happen, but it will take time."
Earlier this week the trust demolished a smoking shelter outside Altnagelvin Hospital.