School attendance: Department of Education criticised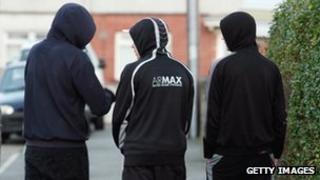 A Department of Education official has said it has been at fault in its "relentless focus on achievement".
Paul Sweeney was giving evidence to the Public Accounts Committee on a recent Audit Office (NIAO) follow-up report on improving pupil attendance.
The report found while overall attendance levels had improved, the level of unauthorised absence had increased.
The rate in Northern Ireland was double that in England.
Mr Sweeney said he thought the department had not been "focussed enough and targeted enough around attendance".
However, he said the department had acted after the initial NIAO report in 2007.
"We didn't sit on out hands. We took a whole range of opportunities," he said.
In reply to a question from committee chairwoman Michaela Boyle of Sinn, Féin, Mr Sweeney said a strategy on addressing pupil absence would be published in "somewhere between 12 to 18 months".
The SDLP's John Dallat gave the example of Magilligan Prison, which the committee had visited and which was an educational success.
Trevor Clarke of the DUP said he was sceptical about the department's strategy, Every School a Good School.
"I would like to see our children go to school to get educated and not to go to prison to get educated," he said.
His party colleague, Paul Girvan, said there were people in education "because it's a job" and who just wanted a salary.
Ulster Unionist Ross Hussey said his father had died when he was 13. He lost interest in school and left with three O-levels. He only returned to education when he studied for a degree at age 44.
Mr Hussey said 12 to 18 months was too long to wait for a strategy on absence.
'Game changer'
Mr Sweeney defended Every School a Good School.
"It has been a game changer in putting power in the hands of the schools," he said.
Daithi McKay of Sinn Féin said leadership "is absolutely crucial".
He said he had been to many schools where a new principal had been appointed and the entire school had changed for the better.
Trevor Clarke said it sounded like Mr Sweeney was speaking from a script and whatever the department had been doing since 2007 had not worked.
"There is no magic bullet here," Mr Sweeney replied.
He said pupils often had multiple behavioural and social problems.
The Comptroller and Auditor-General Kieran Donnelly was asked for his comments on the session.
He said he had been "heartened" by some of the comments made by Mr Sweeney.
"I think it's very important to dwell on the 20,000 children that missed more than six weeks per year," he said.