Rory McIlroy's former Belfast home available for weddings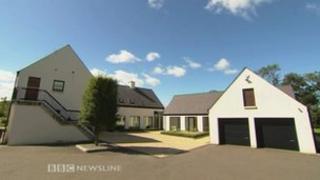 Rory McIlroy's old home on the outskirts of Belfast is now available for hire as a venue for corporate hospitality and upmarket weddings.
The house, which sits on 14 acres, including an extensive golf practice area, was bought by property developer Gary McCausland in 2013.
He has set up a company called Robinhall House Ltd.
The firm is aiming the property at golf tourists, businesses and the hospitality market.
Mr McCausland has also filed a planning application for a major extension that would include the addition of a swimming pool.
He said the project was currently in a soft-launch phase and that marketing would start over the next five or six months.
He described the venue as "a unique proposition" that should have international appeal, particularly to the golf tourism market.
Mr McCausland is originally from Dungannon, County Tyrone, but has worked mainly in London.
He has recently been active in the Belfast property market and has submitted plans for a 10-storey apartment development on Dublin Road.