DVA jobs: Move means big car tax change for NI drivers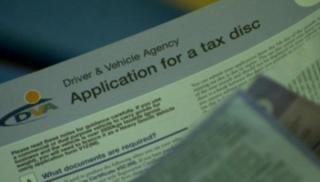 The transfer of Northern Ireland's Driver and Vehicle Agency (DVA) services to Wales means big changes for how local motorists tax their vehicles.
About 300 jobs in Northern Ireland are being lost, mostly at the DVA's office in Coleraine, County Londonderry, despite a long-running campaign by Northern Ireland's political parties and business leaders to retain the operation.
The UK government is centralising services in Swansea, and this means the administration of Northern Ireland vehicle taxation is being brought into line with England, Scotland and Wales.
Motorists in Northern Ireland will now be able to tax their vehicle online or by telephone, something that has been available in Great Britain since 2006.
For those who want to handle the matters face-to-face, this can be still done at post offices.
While some larger post offices offered the service before, this is now being increased to about 175 branches across Northern Ireland.
If a car is being kept off the road, the DVA can be informed online or by phone.
Announcing the move, UK Roads Minister Stephen Hammond said the changes would save £12m a year.
"The DVA's local offices will now remain open to support vehicle registration and licensing services until the end of 2014 while the new services bed in," he said.
"The DVA's office in Coleraine will provide a similar service."
It comes amid a number of changes across the UK to the administration of how vehicles are taxed.
The most visible one of these is the removal after 94 years of the tax disc, which is due to be replaced by an electronic system in October.
In December it was announced that motorists across the UK will only need to tell DVLA once when they declare their vehicle off the road.
Before that, motorists who made a Statutory Off Road Notification (SORN) had to renew it every year. One million out of four million SORN declarations in 2012 were repeats.
The new system in Northern Ireland will also mean an end to the annual hunt for the motor insurance certificate when it comes to paying car tax, at least when paying online.
Instead the details will be cross-checked on an electronic system, and the DVLA will use centrally-held databases to ensure that vehicles are insured.
However, those who choose to pay at a post office will still need the paper certificate.
Under the database system, drivers with uninsured vehicles are sent a reminder letter. Those who take no action receive a fixed penalty notice of £100, followed by wheel clamping, impounding or prosecution, with a maximum £1,000 fine.
However, if police officers discover a motorist driving without insurance, they can hand down a fixed penalty of £300 plus six penalty points. If the case goes to court, the maximum fine is £5,000, with the potential for disqualification or six to eight penalty points.