Casement Park social club in legal bid to halt demolition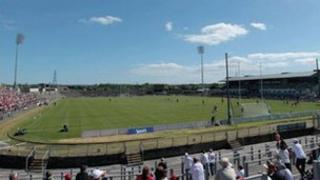 Plans to begin work on a £76m redevelopment of Casement Park GAA stadium could be halted by a new legal action, it has been claimed.
A social club based at the west Belfast ground is seeking an injunction to stop the demolition of their premises.
Papers have been lodged at the High Court in a long-running dispute with the Antrim County GAA Board.
Work on transforming the ground into a 38,000-seat Gaelic games stadium is due to get under way in April.
However, a lawyer for the Casement social club committee claimed it could be put on hold by the proceedings.
Brian Moss of Worthingtons solicitors said: "If the injunction is granted that would stop the development work from commencing because the club's premises are inside the stadium itself.
"There's no way the development work could commence around them."
A new stadium is due to be built on the existing site as part of a government investment plan that also includes upgrades to the Ulster rugby ground at Ravenhill and Windsor Park football stadium.
Last summer the social club went to court to stop its premises being shut down.
A confidential settlement was reached in that case against the Antrim County Board.
However, the social club instructed lawyers again following an incident earlier this year when its electricity went off.
Although that issue has been resolved, the injunction application has been listed for hearing later this month.
Mr Moss also confirmed efforts were being made to obtain all financial records and legal documents belonging to his clients.
Both sides have been urged by a judge to attempt mediation rather than continue with court action.