Nesbitt criticises committee's Washington trip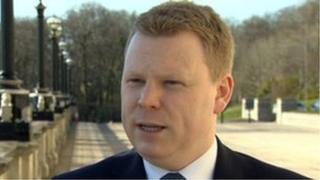 The chairman of a Stormont committee has defended the decision to send five members on a fact-finding trip to Washington at a cost of almost £10,000.
DUP committee chairman Alistair Ross said the trip was important and they "had kept the cost as low as possible".
However, Ulster Unionist leader Mike Nesbitt said he did not see the point in sending such a large delegation from the Standards and Privileges Committee.
He said they would be discussing a document "that's available online".
Mr Ross is being joined on the visit by party colleagues Ian McCrea and Paula Bradley, as well as Cathal Boylan of Sinn Féin and the committee's deputy chair, Anna Lo of the Alliance party.
They are undertaking the trip as part of a review of the MLAs' Code of Conduct.
'Need to go'
Mr Ross told the BBC The View programme: "We opened it up to see (that) as many people who wanted to go could go because I think it's a valuable trip to understand some of the issues around ethics in the US.
"If we want to have a radical code that will be fit for purpose, we need to go to places outside of the UK and Ireland.
"I don't know what the total cost will be. It will work out at less than £2,000 per member which again is within all of the business cases that have been submitted.
"I think it is worth that money in terms of going and understanding the different issues there are across the world in terms of ethics.
Mr Ross said costs would be minimised "as much as possible".
"We don't travel business class. We don't have cars when we go out there, so we're trying to minimise the cost.
Criticised
"But this is the first trip that this committee has taken. I think its important we meet the people involved in ethics and lobbying in the US where they have (had) regulation for some time over this issue and where we have been identified as having a shortcoming."
The trip has been criticised by the Ulster Unionist leader Mike Nesbitt
He told the programme: "I know they're looking at codes of conduct, but it's a code of conduct like this for the United States House of Representatives which I've just printed off from the second floor of this building.
"So I'm not quite sure what the added value is of spending all that money, and particularly (since) three of the five who are flying out are all in the same party.
"Why isn't one sufficient for foreign travel? That's the rule that we apply."
Mr Nesbitt is also in Washington in his role as chair of the Assembly's OFMDFM committee.
"I'm going to represent the whole of the committee of the Office of the First Minister and Deputy First Minister. That's something that has been done down the years and therefore has a track record of working and of providing a benefit.
"I don't see the benefit, particularly in having three members of one party going to talk about a document that's available online," he said.