Escaped wallabies found dead in Clough, County Down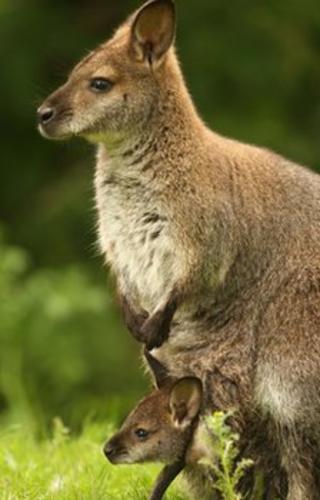 Two wallabies who escaped from privately-owned land in County Down have been found dead.
The animals escaped from land on the Knocksticken Road outside the village of Clough on Monday.
The mother, who was carrying her joey in her pouch, had become trapped between a wall and a tank on adjacent land.
Initial searches had failed to spot them as they were hidden from view, but they were found on Thursday.
The family that owns the animals said they were "sad but relieved that the search is over", and they thanked people who had helped out.
Wallabies, like kangaroos, are marsupials and both species are native to Australia.
However, this is not the first time that wallabies have been on the loose in Northern Ireland.
Almost two years ago, a wallaby went walkabout in Tyrone after burrowing out of his enclosure.
He turned up a few weeks later in County Londonderry.