Desertcreat police, fire and prison college: MLAs seek contract clarity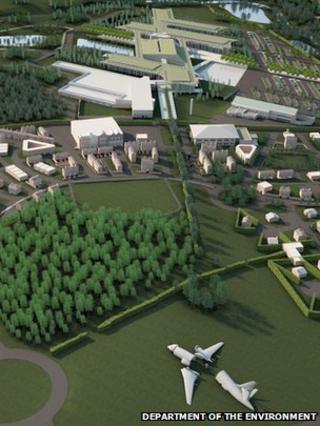 MLAs have called on the Department of Justice to respond to media reports that a contractor has pulled out of the long-awaited £130m police, fire and prison training college project.
The facility at Desertcreat, near Cookstown, County Tyrone, will be one of the biggest construction projects in Northern Ireland.
DUP MLA Jim Wells told Stormont's Justice Committee that while no official announcement had been made, "it is very clear that the company is no longer interested in the contract".
In December, it was announced that the college would be built by a consortium comprising of Belfast company Gilbert Ash and Spanish firm FCC, with the final cost agreed over the following months.
Work was scheduled to begin in the spring, subject to final contract approval by the Northern Ireland Executive.
Mr Wells said the construction industry had picked up considerably since the tender process began and many companies were finding it difficult to meet the prices they had tendered.
He said he understood that other companies that had tendered for the project might also no longer be interested.
"If that happens, the whole future of this particular very important contract is in doubt," he said.
The Stormont justice and enterprise committees have agreed to hold a joint meeting next week to take oral evidence from the project board of the new college.
The board of the college said on Thursday it had been "made aware of a number of cost pressures within the supply chain regarding the tender to build the new college by the consortium".
"In adherence to the procurement process, (the board) has yet to receive official confirmation from the bidder," it added.