Haass trouble warning 'unhelpful' says Robinson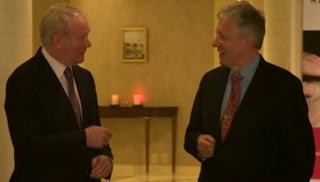 First Minister Peter Robinson has described as unhelpful a claim by Richard Haass that Northern Ireland is at risk of returning to daily violence.
The former American diplomat last year chaired six months of talks on flags, parades and Northern Ireland's past.
Speaking in Washington DC, both Mr Robinson and Deputy First Minister Martin McGuinness said they did not believe that was going to happen.
They have travelled to the US ahead of St Patrick's Day on Monday.
Mr Robinson said: "We never want to go back to those dark days of the past and I think it's probably unhelpful to start talking in those terms.
"You don't want to talk up violence, you want to talk up the prospect of stability and peace."
Mr McGuinness said he was one of those who was optimistic about the future.
'Extremists'
"I don't have any sense whatsoever that the situation will slip back to the past.
"I come to that point of view primarily because of the commitment that I see among all of those who are in government and who are working within the police to ensure that extremists do not destroy the peace that we have gained.
However, SDLP leader Alasdair McDonnell, who has also travelled to Washington DC, said the remarks by Dr Haass were a wake-up call.
"There is a very urgent need for us to get a grip on things in Northern Ireland, to get control of things and sort out the continuing differences," he said.
The first and deputy first ministers have scheduled a meeting with Irish prime minister Enda Kenny later on Thursday.
However, it is their meeting with US Vice-President Joe Biden at the White House on Friday that will reveal the mood of the administration.
The president usually is expected to drop in to these meetings but there has been speculation that he may snub the meeting because he is said to be unhappy at the failure of MLAs to agree.