Norfolk crash: Lord Ballyedmond raised concerns over helicopter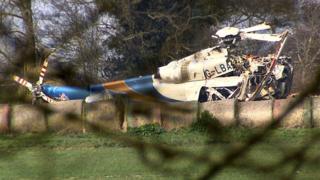 A Northern Ireland peer killed in an air accident in Norfolk had raised concerns about the helicopter that crashed, the BBC has learned.
Lord Ballyedmond was one of four people who died when the helicopter came down in a field in Norfolk on Thursday.
The Agusta Westland AW139 crashed near the 70-year-old's stately home in Gillingham, near Beccles.
The other victims were Declan Small, and pilots Carl Dickerson and Lee Hoyle.
Prime Minister David Cameron has paid tribute to Lord Ballyedmond who was, he said, "a towering figure in Northern Irish business life, and passionate about peace and good relations north and south, east and west".
"He was a larger than life figure who was a great supporter of the Conservative party and a good friend to me," Mr Cameron said.
Mr Small, 42, from Mayobridge in County Down, was a site foreman for Lord Ballyedmond's company, Norbrook Laboratories.
Captain Dickerson from Lancashire and Lee Hoyle from Manchester were both pilots with Haughey Air Ltd, another of Lord Ballyedmond's businesses.
Lord Ballyedmond, who was one of Northern Ireland's richest men, and the three other men died at the scene.
Their four bodies were removed from the crash site on Friday afternoon.
It has emerged that, last year, Lord Ballyedmond, a Conservative peer, lodged a claim against the manufacturer of an Agusta Westland helicopter he owned.
The case came before the courts again last week.
Witnesses
Lord Ballyedmond wanted a refund, claiming that it had a number of problems, including a hole in one of its blades, oil leaks and failures in the communication and navigation systems.
A spokesman for Agusta Westland said the company could not comment on possible defects with Lord Ballyedmond's helicopter, but said it was making checks internally and would support the ongoing investigation in any possible way.
It is not known what caused the crash but witnesses reported fog in the area at the time and said the helicopter came down very soon after taking off at about 19:30 GMT.
The Police Service of Northern Ireland has been contacted by Norfolk Police for assistance.
On Friday evening, Norfolk police said they were satisfied that there were no suspicious circumstances surrounding the incident and had handed the investigation over to the Air Accidents Investigation Branch (AAIB).
Supt Dave Marshall said: "Police, fire officers and AAIB investigators have worked tirelessly throughout the day to enable the recovery of the deceased from the site and this happened late this afternoon. We are now satisfied that primacy for the investigation can sit with the AAIB."
All but one road close to the site of the crash have been reopened.
Emergency services will remain at the scene over the weekend.
'Requested privacy'
A statement on the Norbrook website said: "It is with sincere sadness and deep regret that the company confirms our founding chairman and CEO, Lord Ballyedmond, was one of four people who tragically lost their lives in an aviation accident at Gillingham, Norfolk at approximately 7.30pm on Thursday 13 March 2014.
"Norbrook management and staff also mourn the loss of their friends and colleagues Declan Small (site foreman), Capt Carl Dickerson (pilot) and Capt Lee Hoyle (pilot).
"Our thoughts are with the immediate families and friends of the deceased who have requested privacy at this difficult time.
"We take enormous pride in our chairman's extraordinary legacy in establishing Norbrook as a global veterinary and pharmaceutical industry leader.
"Management will continue to advance his pioneering vision with a renewed vigour and determination befitting his memory."
Tributes have been paid to Dr Edward Haughey, who became Lord Ballyedmond of Mourne when he was created a life peer in 2004.
He was a leading industrialist and owned veterinary pharmaceutical firm Norbrook Laboratories in Newry, County Down, and had a range of other business interests.
As well as being a member of the House of Lords, he was a former member of the Irish senate.
In December 1996 a helicopter owned by Lord Ballyedmond crashed on Carlingford Mountain in the Republic of Ireland killing three people.
It was en route to his Rostrevor home.
Gillingham is a small village in the south of Norfolk with a population of about 650.
The site of the crash is about 45 miles from where four crew members died when a US military helicopter crashed on a training mission in a nature reserve in Cley next the Sea, Norfolk, in January.