President Barack Obama 'disappointed' at NI talks failure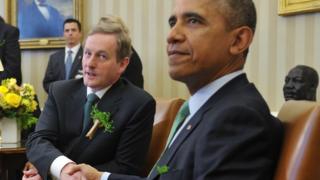 Barack Obama has expressed his disappointment that the Northern Ireland talks on flags, parades and the past, did not reach agreement.
The US president urged the main political parties to continue to work and negotiate.
He spoke as he met Irish prime minister Enda Kenny at the White House.
But he did not call into a meeting between US vice president Joe Biden and Northern Ireland's first and deputy first ministers.
BBC NI political correspondent Martina Purdy said in some circles, that would be interpreted as a snub.
Speaking at the meeting with Mr Kenny, Mr Obama said he knew that the Irish government was encouraging the parties to move out of the past.
"I was disappointed, the US government was disappointed, that the all-party talks did not arrive at a final conclusion and agreement, but we're urging the parties to continue to work and negotiate, and I know that the good influence coming from Dublin will help to encourage them to move out of the past and get the kind of history or the kind of future that Northern Ireland so richly deserves," he said.
The talks with the five main parties, chaired by US diplomat Dr Richard Haass, ended on 31 December without agreement.