Coleraine Court: Brothers jailed for 'cruel and depraved abuse'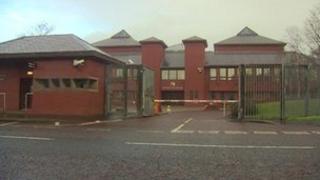 Two brothers who played cards to see who would be first to abuse a young girl have been jailed for more than 20 years each.
A judge told the men that their abuse showed a level of cruelty and depravity that should not be tolerated.
The younger brother, 50, was sentenced to 28 years for sexually abusing his son and daughter and his sister.
The older brother, 56, got 23 years for abusing his sister and for joining his brother in attacking his daughter.
The brothers, who cannot be named to protect the identities of their victims, admitted abusing their sister, but denied 38 other charges of sex abuse for which they were convicted in February.
These included rape, indecent assaults and cruelty. The girl claimed she had been raped up to 1,000 times.
The brothers plan to appeal those convictions.
Jailing them on Friday, Judge Gordon Kerr QC said their sister had described the elder brother, who began the abuse, "as pure evil", while her other brother, who later joined in, was called "a fool".
She later talked of having "so many memories of being abused practically every day", and said that while her mother was aware of her pain, she did nothing about it.
'Cynical exploitation'
Judge Kerr told the brothers that it was "truly hard to imagine the destruction of a childhood suffered by the victim at the hands of her brothers".
"This was a cold, cynical, evil exploitation of a young girl whom they should have been protecting. Instead, they used her as a personal plaything for their sexual gratification," he said.
Later, while sentencing the younger brother for the abuse of his daughter, Judge Kerr said his rape, cruelty and abuse revealed "a level of depraved behaviour which is almost unprecedented".
"For a father to abuse and cruelly destroy the childhood of his child, and use her in this way, is appalling and simply cannot be tolerated by society," he said.
"One would have thought such thoroughly vile behaviour could not be exceeded by this defendant. Not only did he treat his daughter this way, but also had his brother take part and join him in this cruelty and depravity."
Judge Kerr told the man that his abuse of his son again showed "a callous attitude".
Their 14-day trial, held in Coleraine Courthouse, heard only of the abuse of the son and daughter of the younger brother. He began sexually abusing his son and daughter in the early 1990s, when they were aged just six and seven. His older brother joined him in the abuse of his niece.
The victims told the court that they suffered prolonged physical abuse - beatings, being throttled, being burnt with cigarettes. This escalated into serious sexual assaults including multiple rapes.
The abuse lasted for several years and ended when the girl was 14 and the boy was 11.
The defendant's daughter described how her father videotaped her being raped by him and her uncle, and later forced her to relive her shocking ordeal, by making her watch the recording.
The court heard that in 1998, the children told social services about some of the abuse that they had suffered. Nothing was done. They had to wait another four years before the time when, as adults, anyone would believe them.
During their trial, the brothers said the claims of sexual abuse were either lies or imaginings.
However, the jury had already heard that the brothers were convicted child abusers who had admitted abusing their sister in the 1970s and 1980s, starting when she was just four years old and continuing until she was 18.