Belfast police targeted in Falls Road bomb attack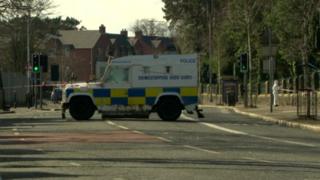 A bomb thought to have been thrown at a police patrol in west Belfast on Friday night was in fact detonated by a command wire, the PSNI has said.
The bomb had been left in the grounds of the City Cemetery.
A father, his three children and four police officers were caught up in the bomb attack at about 22:30 GMT.
The Filipino family were treated for shock, but no-one was injured in the attack. The family's car was slightly damaged.
The blast blew a chunk of masonry out of the wall of the cemetery.
The road has now reopened after being closed for much of Saturday.
It had been busy on Friday night, due to a community event attended by about 500 people.
PSNI Supt Barbara Gray said: "This was not only a deliberate attempt to kill police officers, but was an attack on the community of west Belfast, and it is only through good fortune that no-one, either police or civilian, was seriously injured or killed last night."
Terry Spence, chairman of the Northern Ireland Police Federation, said it was a "reckless, cowardly and futile" attack.
"The officers were fortunate to escape unhurt in what was a clear attempt to murder and maim," he said.
Mr Spence said he had spoken to senior officers after the attack.
"I've been given the green light that there will be a fundamental review of security and how police officers patrol and indeed respond to treble nine calls," he said.
Sinn Féin blamed dissident republicans and condemned them, saying they could have killed people.
West Belfast MP Paul Maskey said: "I have to condemn whoever carried this out. I am sure it is dissident republicans. They should be ashamed of themselves. We are very lucky this young family is not hurt or dead."
'Blatant disregard for lives'
Northern Ireland Secretary Theresa Villiers said: "This attack is a blatant disregard not just for lives of police officers, but also for safety of whole community in west Belfast."
Northern Ireland Justice Minister David Ford said the attack was totally irresponsible
"When will those who tried to kill police officers on the Falls Road get the message? They are not supported and their actions are futile," he said.
"The people behind this attack clearly planned it but I wonder what their plan was had members of the public been injured or killed?"
Ulster Unionist Policing Board member Ross Hussey said: "I am disgusted to hear of the cowardly blast bomb attack on the PSNI in Belfast. I am relieved that officers and passers-by weren't injured."
The SDLP's Alex Attwood said: "I condemn this attempt to kill police officers.
"Those engaged in this type of reckless violence are not advancing a political ideal of any kind, they are hurting the community they claim to represent."