Filipino family caught up in Falls Road bomb attack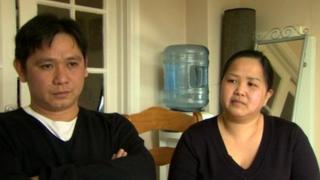 A Filipino family caught up in a bomb blast in west Belfast have said they could have been killed.
Marvi Santos was driving with three of his children along the Falls road when a bomb which had been left in the City Cemetery, exploded on Friday evening.
It had been detonated by a command wire. Debris hit their car and a passing police landrover.
Marvi Santos said he was driving to their home, which was less than a mile away, when the blast happened.
"I heard a loud explosion," he said.
Panic
"It looked like it was just on the right side of my car and then I noticed a crack in my windshield and then some small bits, parts I think from the explosive device, and it had damaged the right side of my car.
"At that time, I didn't really think what had happened. I was panicking at that time and for ten minutes I didn't get out of the car for security reasons, for my safety as well, and I was waiting for the perfect time as well for someone to give me a hand.
"Then luckily someone came and he helped me to phone the police to report the incident."
Mr Santos said he had been left "completely shocked" by what had happened.
"I was really shocked, but I did not want to show it to my children because they might get scared as well," he said.
Shock
"My children asked me 'what was that explosion daddy?' and I said, even though I knew what it was, I didn't want to tell them that is was serious, that it was a bomb so I hid it from them, the situation."
The family and four police officers were treated for shock, but no-one was injured in the attack.
The family have lived in Belfast for nine years and hope to stay here for another 10 years before returning to the Phillipines.
Mr Santos' wife, Michelle, was at home was watching TV and did not hear the blast.
"It was my son who answered the phone and he received a call from my daughter Justine and I panicked as they were talking about something happened," she said.
"I kept asking and he said 'there's a bomb mum', and my initial instinct was to pray 'please God help them', because I didn't' know and we weren't there.
"I was really so terrified about what happened on Friday night and there was three of my children with my husband and even my youngest son kept asking, 'what happened mummy?'"
Mrs Santos said she was "so relieved" when her son told her, "don't worry mummy, they're safe".
Her husband said the family do not believe they were targeted deliberately.
"For someone to do this, just don't do it again because the other people could get hurt," Mr Santos said.