Alliance: Fly union flag on all NI council headquarters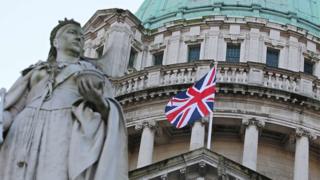 A proposal to fly the union flag from all council headquarters in Northern Ireland on designated days is to be put forward by Alliance at Stormont.
Anna Lo will propose it as an Alliance amendment to the Local Government Bill.
MLAs are debating a bill that sets out what powers 11 new local councils will have and how they should be run.
The Ulster Unionist Party has already tabled an amendment to the same bill, calling for the flag to fly 365 days a year at Belfast City Hall.
On 22 May voters will get to pick the councillors who will sit on new councils.
The bodies will exist in shadow form for a year before taking over real power from the current 26 councils.
Much of the Local Government Bill is concerned with who is eligible to stand for election, how the new councils will make decisions and new powers like community planning.
However, the proposals by Alliance and the UUP will also be debated.
Both are likely to fall foul of the assembly's cross community voting system.
'Equality'
There were widespread loyalist protests when Belfast City Council limited flying the flag to designated days in 2012.
Introducing her new proposal to extend the Belfast policy to all council headquarters, Ms Lo said: "The flying of the union flag on designated days is the compromise agreement that recognises Northern Ireland's position within the UK, while acknowledging that we live in a shared society.
"It allows for the union flag to be flown with dignity and respect, and is in line with British tradition as stated by the College of Arms.
"Designated days is the recommendation of equality guidance and is the policy at Stormont and councils such as Lisburn.
"It is the only policy that will help deliver a shared future," Ms Lo added.
The UUP has tabled its own amendment to the Local Government Bill "calling for the union flag to be flown at every council office across Northern Ireland on a minimum of designated days".
UUP environment spokesperson, Tom Elliott, said the move would "ensure fairness for the ratepayers of councils with a Sinn Féin majority".
In Belfast however, the party wants the flag to be flown on every day of the year from Belfast City Hall, reverting to the policy that had prevailed for decades before the council vote on 3 December 2012.
'No threat'
Mr Elliott said his party's Belfast City Hall amendment was "an opportunity for some who claim that they are committed to equality to acknowledge what many of them signed up to when the Belfast Agreement came about".
"They should not deliberately confuse sovereignty with identity," Mr Elliott said.
He added that the UUP's proposals were "no threat to anyone`s identity".
The council's flag vote on 3 December 2012 was the catalyst for a long campaign of loyalist street protests, some of which resulted in violence.
More than 100 police officers have been injured and more than 560 people have been charged or reported in connection with flag protests in Northern Ireland since that date.
Nationalists and republicans had wanted the flag completely removed from Belfast City Hall, while unionists wanted it to remain as a permanent fixture.
The designated days option was adopted by Belfast councillors after Sinn Féin and the SDLP voted to support an Alliance proposal to limit the number of days the flag would be displayed from the building.