Kevin Barry Concannon denies explosives and 'terror cook book' charges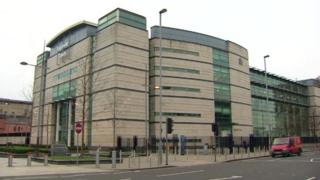 A man has denied having explosives and a bomb-making manual described as a terrorist "cook book" as he appeared at a Belfast court to face terror charges.
Kevin Barry Concannon, from Beechwood Avenue, Edenballymore, Londonderry, is charged with nine offences, including having photos of Merseyside Police HQ.
He was arrested after police searched his home during an investigation into a foiled bomb attack in Derry last year.
He denied six charges. The other three will be dealt with later this week.
'Deactivated machinegun'
A defence barrister asked that the accused be arraigned on the six charges, as the defence team is planning lodge a 'No Bill' application to the three other counts, as they believe he has no case to answer.
The application is used to contest prosecution charges on the basis of insufficient evidence.
Appearing in the dock of Belfast Crown Court, 40-year-old Mr Concannon pleaded not guilty to:
possession of explosives with intent to endanger life;
possession of explosive substances, namely aluminium granules, magnesium ribbon and metal springs;
possession of a magazine in suspicious circumstances;
collecting information likely to be of use to terrorists, namely pictures of Merseyside Police headquarters between 25 October and 28 October, 2012;
possession of a deactivated machinegun, a set of number plates, smoke canisters and a thunder flash likely to be of use in the commission, preparation, or instigation in an act of terrorism.
possession of the publication called The Anarchist's Cookbook, likely to be useful to a person committing an act of terrorism.
Police searched Mr Concannon's house twice in June 2013, during follow-up enquiries into a foiled mortar bomb attack in Derry three months earlier.
The mortar attack bid was blamed on dissident republican paramilitaries.
Highly explosive
His defence counsel said the 'No Bill' application related to a number of items found outside the property.
They included a number of blank firearm cartridges and the highly explosive compound pentaerythritol tetranitrate (PETN), which was allegedly found in a coal bunker at the rear of the house.
The judge said he would hear the application on Friday 21 March.
He remanded Mr Concannon back into custody and set a provisional date for his trial to begin in June.