Eamonn Ferguson murder: Louis Maguire and Christopher Power remanded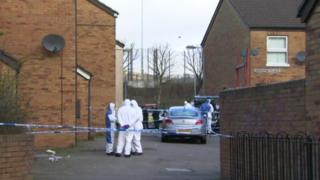 Two men have appeared in court charged with the murder of Eamonn Ferguson in north Belfast at the weekend.
Mr Ferguson, 35, was found dead in a flat at Ardoyne Place just before 03:00 GMT on Saturday.
The accused are 26-year-old Louis Maguire, at whose flat Mr Ferguson's body was found and 31-year-old Christopher Power, of no fixed address.
Mr Power is originally from County Offaly. They did not apply for bail and both men were remanded in custody.
A detective inspector told Belfast Magistrates' Court he could connect the pair to the charges.
A defence lawyer representing Mr Maguire said that his client had consistently denied the charge and would not be applying for bail because he "couldn't face going back to the house where he lived and where his friend was killed".
A lawyer for Mr Power asked the police officer to confirm if his client had been interviewed 22 times over the course of four days and continued to deny the charge.
The officer said that was true and that Mr Power had told police he had no memory for a certain time frame.
The court heard that when the charge was put to Mr Power, he replied: "I had nothing to do with this murder."