East Belfast: Motorists 'drove over suspicious device'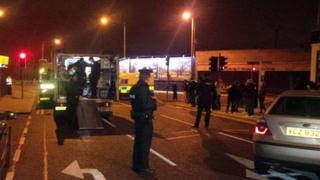 A number of motorists may have driven over a suspicious device that sparked a security alert, the police believe.
The device was at the junction of Albertbridge Road and Castlereagh Street in east Belfast.
It was reported by a member of the public at around 18:15 GMT. The alert ended just before 23:00 GMT.
The device was taken away for further examination by Army bomb experts, but the police did not say if it was a viable device or a hoax.
No homes were evacuated during the alert.
A police spokeswoman said: "It is believed a number of motorists may have driven over the device before it was reported to police."
Naomi Long, the Alliance MP for East Belfast, condemned those behind the alert.
She said: "Whoever is behind planting this device is utterly reckless, placing at risk the lives of local residents and any passers-by.
"Local residents deserve to be left in peace without this constant threat and disruption to their lives."