New research 'links suicidal behaviour to NI conflict trauma'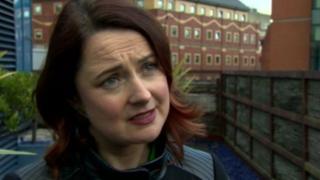 New research claims to have established the first direct link between suicidal behaviour in Northern Ireland and having experienced traumatic and conflict-related events.
The research was commissioned by the University of Ulster.
It carried out detailed analysis of suicidal thoughts, plans and attempts in a sample of more than 4,000 people.
Prof Siobhan O'Neill from the university said the research was "hugely significant".
"This is the first time evidence clearly demonstrating a trend of suicidal behaviour in people who have suffered, or witnessed, a traumatic, conflict-related event has been found," she said.
"The research also identifies lower levels of suicide attempts in this group, suggesting more worryingly, that this group may be more likely to actually take their own life on the first attempt.
New link
"Our previous research has already shown that people who have been affected by the conflict have more severe and long-lasting mental disorders."
Prof O'Neill, from the Bamford Centre for Mental Health and Wellbeing at the university's Magee campus, was the lead author of the paper.
She added: "This new research is hugely significant because it demonstrates a new link between conflict and thinking about suicide.
"These University of Ulster findings are important and valuable as they can now help to shape and enhance the support available to vulnerable people, ensure healthcare providers are aware of new risk patterns, can recognise behaviour patterns and identify those at highest risk."
The research was part of the World Health Organisation's World Mental Health Survey Initiative.
It is one of a series of identical studies undertaken in over 30 countries that assess mental health based on psychiatric criteria and symptoms.
Comparisons with the other international studies that have been published show Northern Ireland has one of the highest rates of post-traumatic stress disorder (PTSD), with high levels of people experiencing violence associated with the conflict in Northern Ireland.