McWilliams is 'bad man on mission for Scarlett Johansson'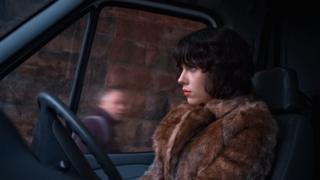 World champion motorcycle ace Jeremy McWilliams is a bad man on a mission to protect Scarlett Johansson.
That is the role he plays in the controversial film, Under the Skin.
The sports star from Northern Ireland swapped his helmet for a hard look and can be seen in cinemas across the UK.
He plays the back-up support to Johansson's man-eating alien in the new film, Under the Skin. It is proving to be one of the most divisive films of recent times.
Under the Skin was booed during its first showing at the Venice Film Festival - although the same thing happened to director Jonathan Glazer's previous film, Birth.
While both The Telegraph and The Guardian critics gave the film a five star review, the Independent declared "Scarlett Johansson can't save the laughably bad alien hitchhiker movie". The Hollywood Reporter added that "it fails to impress".
For sports star, Jeremy McWilliams, 49, from County Antrim, it was a strange swerve off his legendary career on the race track, but one that he calls "interesting", in a downbeat way.
When he first got a telephone call from the film makers, he thought it was just his friends playing a trick.
"I got a phone call from a guy I had never heard of - he was interested in motorcycle riders for this role," he told BBC Northern Ireland's Good Morning Ulster.
"At first, I thought it was a wind-up and was waiting for one of my friends to walk around the corner at any moment.
After a flurry of calls, he spoke to Jonathan Glazer. He agreed to take part and he travelled to Scotland in 2012 to shoot the film.
"Even during the filming of the movie, nobody got to hear much about it. Jonathan is quite guarded in everything he does," he said.
"Really, they wanted me to turn up and ride a motorbike really fast through the Highlands of Scotland in really awful conditions in snow, ice and rain. In the movie, I look after Scarlett, I clean up after her, remove somebody. I kill the ones that she lets go," he said.
"It is a strange theme, a really different movie. It was handy that there was no speaking."
McWilliams is not one to be starstruck. He describes film star Scarlett Johansson as "a very normal, down-to-earth person".
Shooting took place in Scotland in winter 2012. At the same time, Jeremy was managing a race team and involved in other racing projects.
Being in a film was a little surreal, he said.
"Just turning up and seeing your dressing room: 'Jeremy McWilliams: Bad Man'," he said.
"The strange thing was we got one of my sponsors on board to supply brand new made-to-measure leathers. They put these very, very expensive leathers into a cement mixer with bricks to make them look old."
The final film, which is currently on release, is very much "a love or hate thing", he said.
And would he consider a change of career? Not likely.
"It was fun, but in the end making a movie involves a lot of hanging around," said Jeremy.
There is little time for that on the race course and McWilliams is back on track with his sights fixed on the North West 200, primed to scorch rubber.
Under the Skin is out in the UK now.