Is any publicity good publicity ahead of election?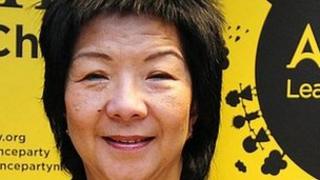 If you are a candidate heading into an election is all publicity good publicity?
That's the question that ran through my mind when I first saw John Manley's revealing Irish News interview with Anna Lo.
Anna is already very well known as the UK's first parliamentarian from the Chinese community.
Her belief that all flags and murals on display alongside the Giro D'Italia cycle race route should be removed put her in the headlines, as did the racist abuse she suffered after making her remarks.
The South Belfast MLA is being typically honest and open in answering a straight question with a straight answer.
She is not in favour, she explains, of colonialism, believes the border is artificial and thinks people in Northern Ireland would be "better placed economically, socially and politically" if there was a united Ireland.
Neutral position
Anna Lo restates Alliance policy in adding that it's up to the majority of people here to decide what happens in the future, but by stating her personal preference opens up the whole question of where her party colleagues would stand if push came to shove.
Back in the border poll of 1973 Alliance supported keeping Northern Ireland within the UK.
In more recent years, they have adopted a neutral position in line with the Good Friday Agreement's underpinning of the "principle of consent" with Alliance MLAs at Stormont designating as "others" rather than dividing into either the unionist or nationalist camps.
However, during the "pantomime horse" episode in 2001, when the survival of David Trimble's executive was at stake, some Alliance MLAs temporarily re-designated with David Ford, Eileen Bell and Sean Neeson declaring themselves as unionists in order to facilitate the election of a first and deputy first minister.
There's some speculation that Anna Lo's interview is an attempt to position herself to pick up more transfers from Sinn Féin, potentially leap-frogging the SDLP.
However, Alliance has traditionally been stronger in unionist majority areas than nationalist districts.
It would be interesting to find out whether Naomi Long thinks the European candidate's latest comments make her own task of retaining the East Belfast Westminster seat more of an uphill struggle.