Michael Copeland apologises for tweet about Anna Lo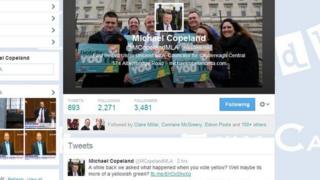 An Ulster Unionist Party politician has apologised for a message posted on his Twitter account, which he said he accepted could be viewed as racist.
Michael Copeland said the message was not intended as a racially prejudiced remark against Alliance MLA Anna Lo.
The message said: "A while back we asked what happened when you vote yellow? Well maybe it's more of a yellowish green?"
It links to a newspaper report about Ms Lo, who is originally from Hong Kong.
She has been criticised by unionists over the past 24 hours, after she declared her preference for a united Ireland during a interview with a Belfast newspaper.
Mr Copeland, who is a UUP MLA for East Belfast, told BBC Radio Ulster: "I can fully accept how people can look at that, and think that the reference - yellow - in some way referred to the ethnic origins of Ms Lo.
"The comment regarding yellow should be seen as a mixture of the Alliance Party colours and the political position adopted by Ms Lo," he said.
"Now, if Anna feels in any way that I have deliberately tried to be racist with her, I will apologise to her face-to-face on Monday, but I would like to think that Anna would know me well enough to know that such a comment would not be racially prejudiced."
Mr Copeland added: "Anyone who knows me, knows I'm not possessed of a sectarian, racist, socially prejudiced, gender prejudiced bone in my body."
When he was asked to clarify whether or not he wrote the tweet personally, the UUP MLA said: "I'm responsible for it and I employ and trust people, so the responsibility resides with me."
He would not be drawn on whether or not a member of his staff had posted the message, which was published about 04:00 GMT.
"It's impossible sometimes to keep abreast of everything, but if something appears on my Facebook or Twitter account, I am responsible and I will accept the responsibility for it," Mr Copeland said.
'Anti-colonial'
Ms Lo, who is an MLA for South Belfast, represents the cross-community Alliance Party, which traditionally uses the colour yellow in all of its branding and election materials.
In an interview with the Irish News on Monday, Ms Lo described herself as "anti-colonial" and said the partition of Ireland was "artificial".
She said a united Ireland would be "better placed economically, socially and politically".
Leading unionists said her remarks were "insulting".
Mr Copeland told BBC Radio Ulster that Ms Lo was entitled to her views but added he believed they were "ill-considered".
He added that her party should makes its position clear on the constitutional position of Northern Ireland within the UK.
"The situation in Northern Ireland is rocky and the unionist population is very unsure of its place in the world. It's very unsure of where it's going and it's edgy.
"And I do not think the remarks that Anna made, no matter how heartfelt they are, hold forth any prospect of offering stability."
'Offence'
Last December, the UUP MLA was involved in controversy when he said the US diplomat Dr Richard Haass should "go home and leave us who live here to mend our ways".
Mr Copeland made the remarks as he addressed a loyalist rally in north Belfast, while Dr Haass was leading all-party talks on flags, parades and the legacy of the Troubles in Northern Ireland.
The East Belfast MLA later said he "intended no disrespect to Mr Haass" and apologised for any offence caused.