Anna Lo comments: Geraldine Rice 'shocked' by united Ireland remarks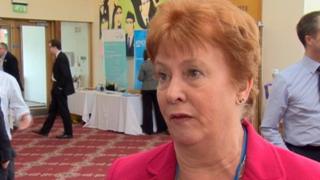 A veteran Alliance councillor has said she was shocked by the party's European election candidate expressing support for a united Ireland.
Anna Lo caused a storm among unionists earlier this week when she described herself as "anti-colonial" and said the partition of Ireland was "artificial".
The Alliance leadership has played down the remarks and Ms Lo has rejected criticism of her comments.
But Castlereagh councillor Geraldine Rice said she did not share her views.
Ms Rice, who has been a councillor for 25 years, said she realised it was Ms Lo's own "personal opinion," adding: "It's certainly not mine".
"She is our European candidate and she has been elected by the majority of the people who were at her selection campaign, so I can't say anything about that," she told the BBC's Sunday Politics.
"It was good at the time that she was running, but to come out and say about the united Ireland, I felt quite shocked about it to be quite honest."
Ms Lo made the comments in an interview for the Irish News newspaper during the week.
She subsequently defended her comments during a speech to the Alliance Party conference on Saturday.
The South Belfast MLA received applause as she took to the stage and claimed the criticism came from people incapable of seeing beyond sectarianism.
"Of course, in recent days a lot has been said about my views on the constitutional issue and many have tried to badge me as a nationalist," Ms Lo said.
"Let me make this very clear, I cannot and will not be reduced to one label."