Lord Ballyedmond: Edward Haughey funeral in Newry, County Down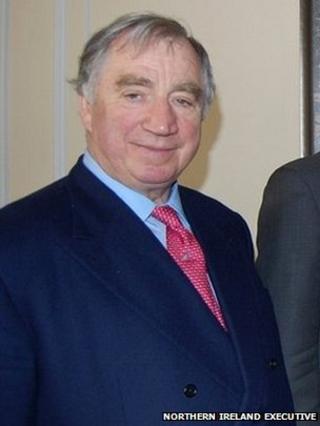 The death of Northern Ireland peer Lord Ballyedmond in a helicopter crash was a "huge loss", mourners at his funeral have heard.
Dr Edward Haughey, 70, was one of four men killed in the crash near his stately home in Gillingham, Norfolk.
His funeral took place in Newry, County Down, where his veterinary pharmaceutical firm Norbrook Laboratories is a major employer.
Mourners included Dr Haughey's wife and children, as well as Norbrook staff.
Representatives of Northern Ireland's main political parties also attended, including the first and deputy first ministers Peter Robinson and Martin McGuinness.
Norbrook site foreman Declan Small, 42, from County Down, and pilots Carl Dickerson, 36, and Capt Lee Hoyle, 45, also died in the crash on 13 March.
Canon Francis Brown told mourners at Newry Cathedral: "Edward did not have an easy childhood, as his father died tragically before he was born.
"It is thought that this may have had a motivating effect on his ambition to be successful. He always spoke fondly of his mother and encouraged others to cherish the time available with their parents."
He added: "Many people in Newry, and far beyond are suffering a huge loss."
Canon Brown said Dr Haughey's founding of Norbrook in the late 1960s had brought employment to many people in Newry and the surrounding area.
"Edward started as a sole trader operating on a very small scale and grew the business to its present scale.
"As chairman and managing director of Norbrook Laboratories and Norbrook Holdings, he employed approximately 3,000 people globally with 2,000 staff based in Newry city, many of them graduates and highly qualified PhD scientists.
"Today the company is one of the largest exporters in the north of Ireland."
Charities
Canon Brown said Dr Haughey had "made many significant donations over the years to educational establishments and charitable organisations".
"Most of these were never published, and many charities and schools in the locality benefited," he said.
"He had a keen interest in the development of the science subjects in all educational establishments."
Dr Haughey lived in Rostrevor, County Down and owned Gillingham Hall, near the crash site.
A leading industrialist, he owned veterinary pharmaceutical firm Norbrook Laboratories in Newry and had a range of other business interests.
After Requiem Mass, he was taken for burial near his birthplace in the cemetery at Kilcurry Parish, County Louth.
Mr Small, from Mayobridge, County Down, was a site foreman for Norbrook Laboratories. His funeral was held on Sunday.
It is not yet known what caused the crash but witnesses reported fog in the area at the time and said the helicopter came down very soon after taking off.
The findings of Air Accidents Investigation Branch investigators are expected in about a year's time.