Lough Ree: Search for Portadown man Darryl Burke resumes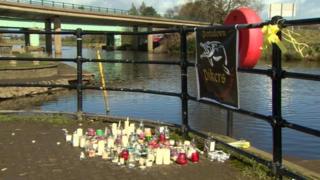 An angler rescued after a boat sank in County Westmeath last Thursday, is awake and helping police with the investigation, the RNLI has said.
A search of Lough Ree resumed just before midday on Monday for 30-year-old Darryl Burke from Portadown.
His friend David Warnock, 27, from Richhill, County Armagh, died after being rescued from the lake.
Another member of the fishing party, 60-year-old John Trimble, is recovering in hospital.
All three belonged to a County Armagh angling club. Their boat sank during a fishing trip on the lough.
Monday's search resume in stormy conditions.
Police divers and volunteers from local sub-aqua clubs returned to the water, while civil defence volunteers have been combing the shoreline.
RTÉ's midlands correspondent Ciaran Mullooly said Mr Trimble was able to tell police that the three fishermen had become separated from their boat, which was significant as there had been fears that Mr Burke was either trapped inside, or under, the vessel.
Mr Mullooly added that Mr Trimble said the anglers had noticed water coming into their boat near New Point and that all three had left the boat and tried to get to shore using fishing equipment to stay afloat.
However, Mr Burke, became separated from the others.
Forty to 50 divers took part in searches of the lough over the weekend for Mr Burke.
Damien Delaney, RNLI operations manager at Lough Ree, said: "The area we are searching at the moment is about two square miles.
"We feel that the area we are in is the right area. Visibility is poor, but we are going to keep at it."
He added: "It would appear that the three men were going to spend some days in Lough Ree to do a bit of fishing and camping.
"During the course of their passage, the weather deteriorated quite quickly and we think the boat may have been swamped by waves.
"John Trimble, I believe, has made a statement to the Garda and our search area is based on what John has told us."
Sean McCarry, regional commander of the NI Community Rescue Service, who has been involved in the search for Mr Burke, said Mr Trimble's information had been "invaluable".
Candlelit vigil
On Saturday night, a candlelit vigil was held for the families at the banks of the River Bann in Portadown - a familiar spot for the anglers.
A relative of Mr Burke, Gary Davidson, said it was devastating for the whole family.
Mr Davidson said: "I'd like to thank everybody that has come out to support the family and hope and pray that they get Darryl soon and bring him home.
"Maybe it'll relieve a wee bit of the pressure that the family's going through."
Sunday's search at Lough Ree also involved the Lough Ree lifeboat and many local fishermen.
Sydney Anderson, a local MLA, said Saturday's vigil in Portadown, attended by more than 200 people, happened spontaneously.
"The number of people that attended here last night was testimony to the way that people are thinking right across the community... pouring out their grief to the families who are suffering at this time," he said.
Mr Warnock, a former captain of Armagh Hockey Club, was engaged and had a four-year-old son.
He had been due to play in a league cup final next Saturday, however, that is now likely to be postponed as a mark of respect.
His friends and team-mates said he was a superb player who could have gone on to play for other clubs, but his loyalty was with Armagh.
His funeral took place in Mullabrack, County Armagh, on Monday afternoon.