New 101 number for non-emergency PSNI calls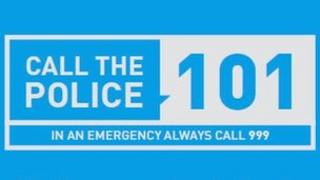 The Police Service of Northern Ireland has changed its phone number for handling non-emergency calls.
People who want to speak to police about matters that are not urgent should dial 101.
It replaces the 0845 600 8000 number that has been in use since 2005.
Chief Constable Matt Baggott said the new number would "help to free up the 999 system for genuine emergencies".
He added: "We see the introduction of 101 as another step towards our ambition to deliver the finest personal policing service.
"One of the biggest benefits for people in the community is that they will have an easy-to-remember number that they can call from anywhere in Northern Ireland at any time."
Stormont Justice Minister David Ford said it was "a further example of the PSNI's community policing ethos".
Policing Board chair Anne Connolly said the new number would "make it so much quicker and easier for the public to get in touch with the police".
Police said the 101 number should be used for incidents such as:
Minor traffic collisions that do not require an emergency response
Criminal damage that has already taken place
Passing information on criminality, like drug-dealing and anti-social behaviour.
The 101 number for reporting low-level crime was first piloted in England in 2006, and rolled out across England and Wales in 2012.