Man 'feared for life' in north Belfast dog attack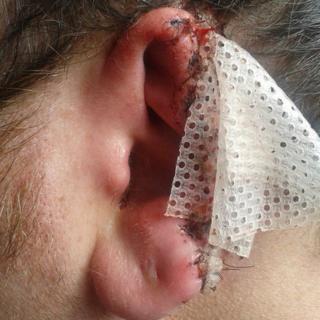 A man has been telling of the terrifying moments when a dog bit off part of his ear during an attack in north Belfast.
Ryan Somerville, 34, from Woodvale said he was lucky to be alive after an Akita dog tore at his face.
Doctors said his ear could not be saved and he will require reconstructive surgery.
The police said they were aware of the incident and the dog warden service was leading the investigation.
Mr Somerville, a landscape gardener, said the attack happened as he was working on a site.
"I was tying my shoelaces when it attacked me," he said.
"The dog lunged at my face. They are massive dogs especially when one is on top of you.
"It went for my face and I moved my face away from it and then obviously it got my ear. It bit half of my ear off."
The dog took off after one of Mr Somerville's colleagues chased it.
But Mr Somerville said it was an horrendous ordeal.
"I was very, very frightened," he said.
"I am still scared now thinking about it because I've a seven-month-old child. I was thinking that could happen to a wee baby.
"If the people I work with were not there, God knows what would have happened."
Plastic surgeons operated on Mr Somerville immediately but he faces long-term treatment to rebuild his ear.
"They said they couldn't save my ear so they gave me a skin graft and about 20 stitches around my ear. I have to go back next week to see what else they can do," he said.
Mr Somerville, who is on very strong pain medication, is extremely angry that such a dog was running loose.
"It could have attacked a child, a baby, or someone like myself. What happens the next time it gets out? It could kill someone.
"I feel lucky I'm alive, but I also feel lucky that it's my ear. It could have been my eye or my face."
In a statement, the police said they had received a report of an incident involving a dog on 20 March.
"One man was taken to a nearby hospital for treatment for his injuries, that are not believed to be life threatening," the statement said.
"Police advised the dog warden who is leading the investigation into this."