Declan Quinn killing: Cousin admits manslaughter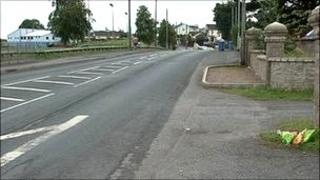 A family feud ended with one cousin killing another by driving over him, the crown court has heard.
Anthony Joseph Quinn, 23, of Maplebrook Hill, Coalisland, County Tyrone, had been charged with murder and causing the death by dangerous driving of Declan Quinn.
However the charges were withdrawn when he pleaded guilty to manslaughter.
Declan Quinn, 37, died two days after being run over in Coalisland on 16 July 2011.
Dungannon Crown Court sitting in Belfast was told that Anthony Quinn, a disqualified driver, drove into his cousin at Gortgonis Road.
Declan Quinn was flung over the bonnet of the car into the air and suffered severe injuries.
Anthony Quinn later claimed that he thought Declan Quinn had a handgun.
Reading from a set of agreed facts, the prosecuting lawyer said Anthony Quinn had gone to his father's home after receiving a call that it was being attacked.
The intruders - two of Quinn's cousins and another man - had gone to his father's house to complain about a shed that was set on fire.
As Quinn arrived, the men were leaving, and as he reversed away, he was chased in a car by one cousin. Declan Quinn and the other man chased him on foot.
The lawyer said Quinn got away and was driving back towards his father's home when he came upon the other two men on a traffic island on the main road.
The court heard that Quinn initially told police he had believed all three men had been armed, one with a handgun, one with a sledge hammer and the other with a hammer.
A witness also claimed the men were armed, but that the third man was carrying a spade. However, police only recovered a claw hammer from the scene.
The lawyer later agreed with the judge that it would be difficult to exclude the possibility that, in the mind of the accused, either one of the men had a gun.
He struck his second cousin, while driving at between 29-39 mph in a 30 mph zone.
A defence lawyer urged the judge to veer towards a sentence at the lower end of the scale, of one to four years. She said that there were a number of reasons, including the fact that her client had played no part in instigating events that morning.
She said Quinn had gone to help his father and had found three armed men. She said he believed he was about to be shot.
The judge said he would pass sentence on Friday, in a case in which, he said, "everyone behaved disgracefully".