On the Runs: Police team to review more than 190 cases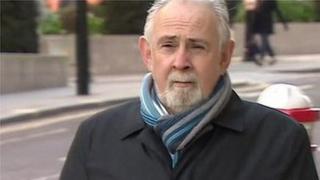 The police are reviewing the process that led to the issuing of letters to more than 190 republican On the Runs.
The letters told the individuals concerned that they were not wanted for questioning or prosecution for any paramilitary offences committed in the UK before the 1998 Good Friday peace agreement.
A team of 16 detectives has been assigned to the review.
They will investigate the circumstances of each of those who received a letter.
They will also re-examine the original checks carried out by a specialist Police Service of Northern Ireland (PSNI) team, that led to the Public Prosecution Service being told none of the individuals were wanted.
It is understood that investigations into killings and other incidents may be reopened if mistakes or new evidence are uncovered.
Lady Justice Hallett was appointed by Prime Minister David Cameron to lead an inquiry into the On the Runs after Northern Ireland First Minister Peter Robinson threatened to resign over the issue.
On the Runs are escaped prisoners or those who feared arrest for paramilitary crimes connected to the Northern Ireland Troubles committed in the UK before the Good Friday Agreement.
The political storm over the issue erupted after the trial of Donegal man John Downey collapsed at the Old Bailey last month.
Mr Downey denied killing four soldiers in the 1982 IRA Hyde Park bombing.
The case collapsed because he was mistakenly told in a letter in 2007 that he was no longer a wanted man, despite the fact that police in Northern Ireland knew he was still being sought by Scotland Yard.