Omagh bombing 'could have been prevented'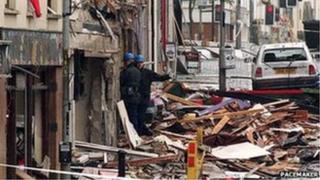 The 1998 Omagh bombing could and should have been prevented, a court has heard.
Lawyers for the father of one of those killed in the atrocity claimed there was enough intelligence available before the terror strike.
Michael Gallagher is seeking to judicially review Northern Ireland Secretary Theresa Villiers' decision to rule out a public inquiry.
His son Aiden was among 29 people, including a woman pregnant with twins, who died in the Real IRA attack.
'Duty to investigate'
Together with relatives of some other victims, Mr Gallagher is campaigning for a cross-border investigation into allegations that the security services could have done more to thwart the bombers.
They took their battle to the High Court in Belfast after Mrs Villiers announced last September that there were insufficient grounds to justify a further inquiry.
She said that a continuing investigation by the police ombudsman was the best way to address any outstanding issues.
But Mr Gallagher's London-based senior counsel has contended that the state has a duty to investigate.
Central to the case are obligations contained in the Human Rights Act that came into force in 2000, two years after the Omagh bombing.
They include duties of prevention and investigation as part of an Article 2 requirement to protect life.
Ashley Underwood QC contended that much of the investigative material only emerged after the Act was brought in.
He set out a series of claims from intelligence sources that they told of terrorist plans in the run-up to the attack.
"There is an arguable case that the state could and should have prevented the atrocity at Omagh," Mr Underwood said.
Infiltrated
"That then, at least in principle, gives rise to an Article 2 investigative duty.
"That duty extends to investigating whether the state could, in fact, have stopped the murders."
Mr Justice Treacy was told that all investigations into Omagh so far have not even cumulatively addressed the question of whether it could have been prevented.
Mr Underwood also examined claims made by a number of agents who infiltrated republican ranks, including Kevin Fulton and US spy David Rupert.
At one stage he contended there was a real prospect that tracking equipment had been placed in the bomb car.
The court also heard claims that the terrorists behind a series of attacks leading up to Omagh were being monitored.
Mr Underwood, seeking leave to advance to a full judicial review hearing, said that if an Article 2 obligation existed then the secretary of state had got it wrong.
Reserving judgment on the application, Mr Justice Treacy said he wanted to review the submissions.