PPS 'discriminated against women prosecutors', tribunal rules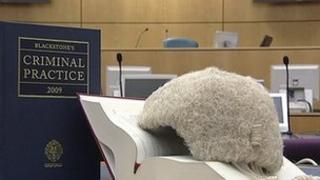 Fifteen senior women prosecutors have successfully sued the Public Prosecution Service (PPS) in Northern Ireland for sex discrimination.
The Fair Employment Tribunal said that from 1 February 2006, the lawyers received less pay than their male counterparts.
The lawyers have yet to find out how much they will be given in back pay.
However, it is estimated it will cost the PPS more than £500,000 and potentially more than £1m.
This figure does not include compensation for injury to feelings, nor does it include legal costs.
The case was taken after a change in the lawyers' pay structure when policing and justice powers were devolved to the Northern Ireland Assembly in 2010.
The Department of Finance and Personnel was also sued.
Religious belief
Both the department and the PPS admitted that the change in pay structure did amount to indirect discrimination, but said that there was "objective justification" for that discrimination.
The tribunal said that the PPS was aware that the decision to change the lawyers' pay in the way that they did "would in all likelihood offend against all the main categories of discrimination namely sex, age and religious belief".
The tribunal also found that the PPS "intended to indirectly discriminate" against the lawyers.
The judgement said that the PPS and the department "deliberately misrepresented" to the lawyers the reasons that they were not getting paid as much as their male colleagues.
It was held that the discrimination went back as far as February 2006.
The tribunal ordered both sides to negotiate the back pay claim but if there is no agreement, that could result in another hearing.
There will be a separate hearing to discuss the issue of legal costs.