David Ford: Using extra UK police is 'necessary' option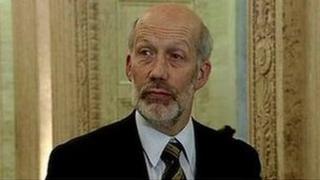 Justice Minister David Ford has said extra police officers from the UK should continue to be used in Northern Ireland if needed.
The practice of mutual aid deployment has been criticised over training and pay of redeployed officers.
Mr Ford said mutual aid deployment was a "necessary" option for the PSNI.
In 2013, 3,600 officers from England and Wales were drafted in for the G8 summit in County Fermanagh and 1,300 were used during disorder in July.
Talking to police news website, Police Oracle, the justice minister said: "Every other force relies on mutual aid for major events and the PSNI should have the same right.
Reservations
"Clearly there are different circumstances here as opposed to Kent or the Met but it is not something that would be needed on a regular basis.
"We must find a balance but, at peak times, mutual aid could be necessary and appropriate."
Mr Ford added that the PSNI had assisted UK colleagues in the past and that officers deployed in Northern Ireland last year had applied what they had learned to their own area.
However, Terry Spence, chairman of the Police Federation for Northern Ireland, said the staff association had reservations about the practice.
He said: "We still have major concerns around the training of officers as well as the fact that those who are deploying from the UK mainland are not routinely armed like their PSNI colleagues."
Mr Spence added that the issue of proper remuneration for the officers had also not been addressed.