Burning van in County Armagh linked to Donaghmore ATM theft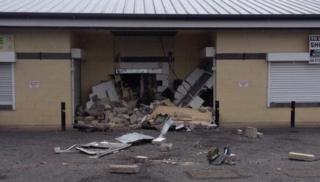 A van found on fire in County Armagh on Wednesday night is believed to be linked to the theft of a cash machine the previous night.
The van was found near a bar at the College Lands Road in the village of Charlemont at about 23:30 GMT.
It is believed to have been used in the theft of an ATM from a filling station on the Pomeroy Road in Donaghmore, County Tyrone.
The fire in the van was put out and it was removed for forensic examination.
Police want anyone who noticed any suspicious activity in the area to contact them on the new non-emergency number 101 or call Crimestoppers on 0800 555 111.
A digger and other equipment believed to have been used in the ATM theft were recovered near the scene on Wednesday morning.