'Serious concerns' over NI construction scheme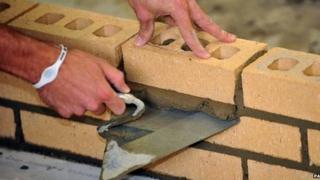 A scheme set up by the NI Executive to help firms bid for government contracts has failed, according to the body that represents builders.
The database was established to provide clear information on what publicly-funded construction projects were coming to the market and when.
But the Construction Employers Federation said it had "serious concerns" about how it operated.
It made the criticism in a report to the Stormont Finance Committee.
The Construction Employers Federation (CEF) said the scheme had "failed to be of any particular use to the construction industry in planning ahead"
It added: "The information... is incomplete and, at times, unreliable and or lacking in detail."
The Office of the First and Deputy First Minister has previously used the database as an example of "improvements in public services".
According to the federation, an examination of the "investment portal" database, on a date, last month discovered:
Of the 51 projects listed only 25 gave a date when they are to be 'in procurement'
31 of the projects listed are schools. Only 20 other projects are listed across all other departments.
John Armstrong from the CEF said: "The over-arching problem is that the information is not being fed in by all government departments."
NI21 leader Basil McCrea said: "This needs to be re-launched. There needs to be more emphasis on it."
Finance Minister Simon Hamilton was unavailable for comment.
The executive's investment strategy arm, the Strategic Investment Board, said the database was intended to complement other arrangements to keep the industry informed, and that work continues to improve the system for users.
After the collapse of the commercial house building sector in Northern Ireland, government-funded construction projects became an even more important source of work for the building industry.