Mortar bomb and command wire found in undercover operation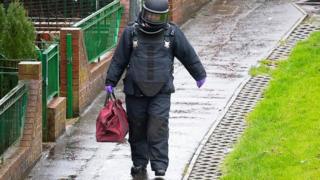 An undercover surveillance operation is believed to have led to the seizure of an improvised mortar bomb in Belfast.
Police believe the operation may have foiled an attack.
The bomb and a command wire were found in a holdall when police stopped a man at the junction of Shaw's Road and Glen Road in the west of the city.
A 22-year-old man has been arrested and is being questioned at the Serious Crime Suite in Antrim.
Badly shaken
Army bomb experts made the device safe and it was taken away for forensic examination.
There were road closures and 12 families had to be moved from their homes during the alert.
The seizure comes two weeks after the dissident group calling itself the IRA fired a mortar at a police Land Rover as it drove along the Falls Road.
A father and his three children were badly shaken when debris from the explosion hit their car.
The device was also an improvised mortar and was detonated by a command wire.
However, it is understood the incidents are not being linked.
A different dissident republican organisation calling itself Óglaigh na hÉireann is believed to have been responsible for the most recent incident.