First Trust customers in Northern Ireland report problems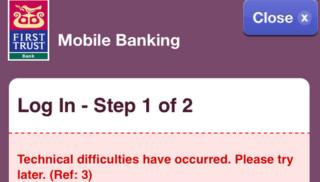 Customers of First Trust bank in Northern Ireland have been experiencing problems accessing their accounts.
Users reported difficulties in withdrawing money from cash machines and some debit cards were being declined in shops on Saturday.
People trying to log in to the bank's mobile app received the error message: "Technical difficulties have occurred."
The bank said a temporary fault that affected ATM and card transactions for about two hours had been resolved.
Its online banking services have also been restored.
A spokesperson said: "We would like to apologise for any inconvenience caused."