Channing Day's family attend Comber war memorial service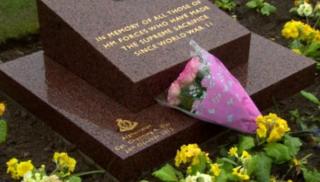 The family of Corporal Channing Day, who was killed in Afghanistan in 2012, have attended a special service in her home town of Comber, County Down.
A new memorial commemorating members of the armed forces killed since World War Two was unveiled in the town square.
Cpl Day's name was engraved on the monument, which was commissioned by Ards Borough Council.
Soldiers who served alongside Cpl Day were among representatives of the armed forces who attended the ceremony.
Cpl Day was shot while on patrol in Helmand province in October 2012.
The 25-year-old joined the Army in 2005 and was deployed to Afghanistan less than a month before she became the UK's third female soldier to be killed there since 2001.