Community education pioneer Noelle Ryan dies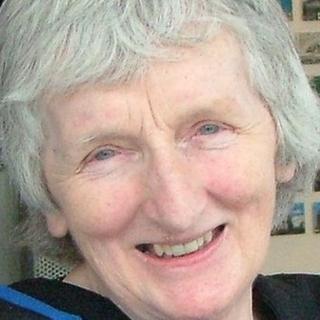 Noelle Ryan, who helped hundreds of disadvantaged people to gain an education, has died aged 82.
Ms Ryan, a former nun originally from Dublin, came to Belfast in 1972 after spending six years as a member of an enclosed order.
However, while she was still a novice in the Dominican contemplative order, her mother superior suggested she would be more suited to working in outside communities.
It was a piece of advice that would lead to an improved quality of life for hundreds of people.
After leaving the convent, she worked in communities in Liverpool, Dublin, Lourdes and Belfast.
Her "temporary stay" in St John's Parish in west Belfast's Ballymurphy area was to last for more than 40 years.
Disadvantaged
Working with west Belfast priest Fr Des Wilson, she helped develop a further education and training centre in a four-bedroomed house at 123 Springhill Avenue.
Springhill Community House, or simply 123, as it became known, initially targeted the disadvantaged and set them on the path to further education.
The project, set up in one of Northern Ireland's most deprived areas at the height of the Troubles, eventually became the largest educational outreach centre in west Belfast.
Ms Ryan was particularly interested in those who had missed out on education in their early years or felt they had no value, and no contribution to make to society.
"I had been reading about the worker priest movement in France," she would later recall.
"As soon as I met Desmond (Fr Wilson) and saw the way the house operated, I felt that this was it in practice.
"Without any fanfare, you relate to whatever the people want and what their needs are, as they make them known to you".
'School refusers'
Springhill students were soon sitting examinations with many achieving excellent results and going on to university.
The operation was becoming too big for the house and it was with some relief that organisers accepted the offer of extensive, but spartan accommodation at the Conway Mill complex on the Falls Road.
A particularly successful enterprise by Noelle Ryan and the other project directors was the launch of a "school refusers' project". This was aimed at the many young people who either refused to attend school or had been expelled.
Meanwhile, she had developed a keen interest in homeopathy and alternative medicine, often visiting troubled areas to share her remedies.
This was to lead to the establishment of basic homeopathy courses that developed into practitioners' courses in complementary alternative medicine.
Noelle Ryan died in the Northern Ireland Hospice on 29 March. She is survived by two brothers.
Her funeral took place at Roselawn Crematorium on Tuesday following Requiem Mass in Corpus Christi Church in Ballymurphy.
A memorial service will be held in John the Baptist Church, Blackrock, Dublin, on Saturday followed by interment in Shanganagh cemetery.