Giro d'Italia: Mark H Durkan says poster ban a 'step closer'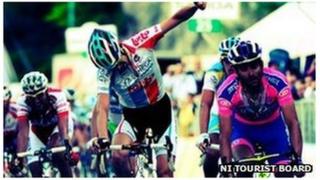 The political parties at Stormont are close to agreeing a voluntary ban on election posters on the route of the Giro d'Italia cycle race, according to Environment Minister Mark H Durkan.
The race, which starts in Belfast in May, coincides with the European and local council election campaigns.
The environment minister held private talks with the Stormont parties earlier today.
Afterwards, Mr Durkan said a voluntary ban was a step closer.
He said: "Whilst there are still some practicalities to be worked through, I am confident that this can be achieved.
"I have already asked officials to work through these issues urgently and I have given a commitment to go back to the parties as soon as possible.
"There is a responsibility on us all to present the best possible picture of the North. This meeting today is an important step closer to collectively reaping the benefits the Giro D'Italia can bring for everyone in Northern Ireland."
No distractions
With a global audience of more than 775 million watching on television, some believe scenic pictures of the race route could be spoiled by thousands of election posters.
There are also fears that a 'poster race' could take place with candidates competing for lamp-posts in prime sites like Titanic Belfast and Belfast City Hall, which are being used as start and finish locations.
The mall in Armagh is also being used.
Organisers of the race would welcome a voluntary ban on election posters.
One source said: "We want to show off Northern Ireland and its beautiful scenery. It's in the best interests of everyone that there are no distractions."