HGV levy comes into effect in Northern Ireland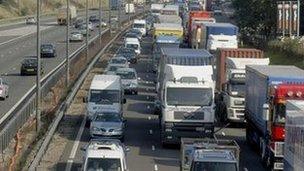 Heavy goods vehicles registered outside the UK will be charged up to £10 a day to drive on Northern Ireland's roads from Tuesday.
The tariff, which is known as the HGV road user levy, was agreed by the Westminster coalition in 2010 and was passed into law in 2013.
The scheme will mean trucks from the Republic of Ireland and other European countries will have to pay between £85 and £1,000 a year to enter the UK.
Payment will be through a website.
Some truckers in border areas of the Republic of Ireland have said it will have a disproportionate effect on their businesses.
The government has said it will create a level playing field, as UK truckers have to pay tolls on European roads.
Two roads in Northern Ireland are exempt from the levy, because they straddle both sides of the Irish border:
Part of the A3, west of Clones, County Monaghan
The A37, which is a main through route between Dundalk in County Louth and Castleblaney in County Monaghan.
The levy in Northern Ireland will be enforced by the DVA, initially by manual checks and then by automatic number plate recognition cameras linked to a database.
Failure to pay carries a fixed penalty of £300 or a maximum fine of £5,000 if the matter goes to court.
Related Internet Links
The BBC is not responsible for the content of external sites.