Simon Hamilton: '£68m to be lost from NI health budget'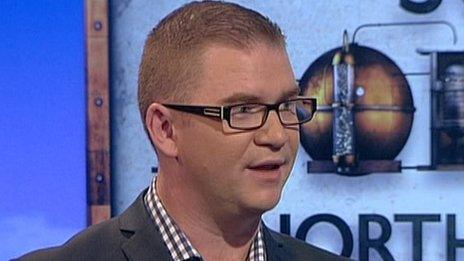 Failure by the executive to agree on cuts to the welfare system will have a devastating impact on NI's health service, the finance minister has said.
Simon Hamilton said, on BBC Radio Ulster's Nolan Show, if the cuts were not implemented, the health minister would have to save £68m this year.
Westminster passed the controversial welfare reforms in February 2013.
The Northern Ireland Executive has negotiated some amendments, but has still not passed the bill.
Mr Hamilton said he had received a letter from Danny Alexander, the chief secretary to the Treasury, saying that £100m was being taken out of the Northern Ireland budget this year.
Sinn Féin has led the opposition to the welfare reforms.
The party's Alex Maskey said the cuts to Northern Ireland departments did not need to happen.
"If the major party is saying to the government 'we think we've got a great package, we're as happy as Larry, then why would the British government concede anything else to you'," he said.
"My argument is, all the parties here need to put their shoulders together and go to the government and say you have told us, the British government has told us very firmly, that they accept that our circumstances here are worse."
Mr Hamilton said Mr Poots was already aware of the cuts his department was set to face.
"Round the executive table he will habitually chime in with the concerns he has about non-movement and no progress on welfare reform, because he knows that the impact on the health service, which is critically important to Northern Ireland and to our people, is going to be severe," he said.
"Sixty-eight million pounds of reduction this year to our health budget is going to have a devastating impact on vulnerable people in Northern Ireland."
Mr Hamilton said £30m would also be lost from the education budget.