GAA and Casement Park social club members reach agreement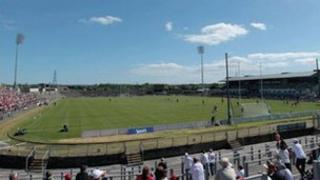 Legal obstacles preventing building work starting on a new stadium at Casement Park in west Belfast have been cleared.
The GAA had threatened to sue the members of a social club within the ground.
They, in turn, had brought a legal action attempting to halt building work.
Some residents remain opposed to the GAA's plans to develop the stadium.
Casement Park is to be redeveloped to become the GAA's premier venue in Northern Ireland.
The 38,000-seater modern stadium in the heart of west Belfast will cost £76m.
But in recent weeks a simmering row between members of a social club that operates under the stand at Casement and the GAA saw both sides threatening legal action.
The club will be demolished as part of the redevelopment.
Social club members felt they deserved to be given an alternative venue while construction of the new stadium takes place.
They also want to be part of the new set-up.
With neither side conceding ground this off-field battle was heading for the courts.
The club members were seeking an injunction which could have halted any building work.
The Antrim GAA county board had issued solicitors' letters against social club members for what they said was a debt of almost £40,000.
Agreement
It is understood none of that legal action will now proceed.
On Tuesday afternoon, it emerged the GAA and social club members had reached agreement.
A joint statement said: "The Antrim County Board and the Casement Park Social Club have reached an agreement to the satisfaction of all parties in relation to the dispute in respect of the continued operation and management of the social club.
"The parties have agreed to an interim arrangement pending the redevelopment of Casement Park and the social club will operate within the stadium under the Cumann Lúthchleas Gael (GAA)."
This means that temporary accommodation will be provided elsewhere for the social club members and they will get a new venue inside the stadium.
The governance of the social club is also to change - they will come back under the GAA umbrella, with input from the Antrim county board, and the GAA's Ulster Council.
While the GAA may have cleared one major obstacle to a new Casement Park, the issue of objections from some residents remains.
While many residents have said they support the redevelopment in principle, there are concerns about the capacity of the new stadium, the height of the walls and the possibility of concerts being held there.