NI public spending £9bn higher than tax income in 2011/12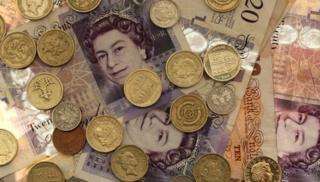 Public spending in Northern Ireland was £9.6bn higher than the amount raised in taxes in 2011/12, according to research by the Department of Finance.
The Net Fiscal Balance Report shows that the spending deficit fell slightly compared to 2010/11, and is well below the £10.3bn peak in 2009/10.
The deficit, expressed as a percentage of total economic output, stands at 33% compared to a UK figure of 10%.
'Per head' the fiscal deficit is £5,311 compared to a UK figure of £2,133.
Northern Ireland's annual fiscal deficit increased by £3bn between 2007 and 2012, the report shows.
As a percentage of regional economic output, the deficit increased by 13.6 percentage points from 2007/08 to 2009/10 as a result of an increasing deficit and falling output due to the economic downturn.
However, from 2009/10 to 2011/12 the deficit has fallen by £0.7bn, driven by a slower rate of spending growth and increased VAT receipts.
Expenditure
As a percentage of regional economic output it has decreased by 2.9 percentage points as the economy continues to show signs of stabilising.
Over the five-year period, spending increased by £3.6bn (17.6%) while estimated revenue increased by £0.6bn (4.2%).
It is predictable that a deficit will increase during an economic downturn, as reduced economy activity means less tax while there is also greater demand for unemployment and related benefits.
The report shows that the main sources of Northern Ireland's estimated £14.1bn tax revenues were income tax (£2.5bn), VAT (£3.4bn) and National Insurance contributions (£2.2bn).
Collectively, these estimated receipts accounted for about 58% of Northern Ireland public sector revenue.
The largest area of expenditure was on pensions and social security, amounting to almost £8bn, or 35%, of the £22.6bn total.
The other main areas were health at 16.2% and education at 12.3%.
The report shows that revenues from stamp duty - which is related to the housing market - collapsed by 71% between 2007 and 2012.
Meanwhile, the amount raised in alcohol duties jumped by almost 50%.