Colombia peace talks: Martin McGuinness meets President Santos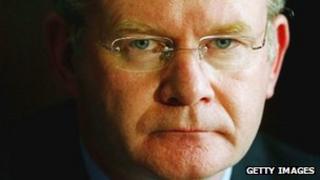 Northern Ireland Deputy First Minister Martin McGuinness has met the Colombian president to advise him on the peace process there.
Mr McGuinness was invited to the capital Bogota by President Juan Manuel Santos to share his experiences of the Northern Ireland peace process.
The Colombian government has been in negotiations in Cuba with left-wing Farc rebels since November 2012.
Earlier this year, Mr Santos told the BBC he hoped they were close to peace.
The conflict - the longest-running in Latin America - has killed an estimated 220,000 people since it began in the 1960s, with some three million more internally displaced by the fighting.
The talks in the Cuban capital, Havana, are the fourth attempt since the 1980s to reach peace, having failed before amid disagreements, mutual recriminations and flare-ups of violence.
Mr McGuinness said President Santos had "shown great courage and tremendous vision for a future peaceful Colombia" and he wanted to offer support for the process.
"I believe the fact that negotiations are taking place in Havana suggest that Farc and the government recognise that there is a very real prospect for an enduring agreement that will benefit all of the people of Colombia," he said.
Mr McGuinness said "the peace process in Ireland is now widely recognised by the international community as one of the most successful peace processes in the world today".
"For some three decades we had a very bitter conflict that many people both at home and in the international community believed was incapable of resolution," he said.
"I think it clearly shows that where you have people with political experience, political courage and political vision for the future, the impossible can be overcome."
Mr Santos said the peace process in Northern Ireland showed "conflicts that have lasted a long time can also be resolved".
He said their meeting had been very useful.