Game of Thrones in ad campaign for Northern Ireland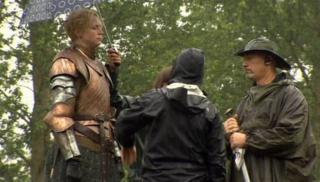 US television production company HBO has endorsed a new Game of Thrones advertising campaign that will promote Northern Ireland as a tourism destination.
Much of the medieval drama has been filmed on location in NI and at Titanic Studios in Belfast.
HBO has allowed its name and logo to be used in Tourism Ireland campaigns.
The campaigns will appear on Twitter and Facebook in North America and Europe.
"This follows months of negotiations and is a major coup," said Enterprise Minister Arlene Foster.
She hopes that some of the programme's huge global fan base - 14m watch it in the US - can be persuaded to visit Northern Ireland.
Various locations, including the Cushendun caves, Murlough Bay, Ballintoy harbour, and Larrybane have featured.
"That gives us huge exposure. We can draw people in as a result of that," said Ms Foster.
Games of Thrones has had £11m in funding from the Northern Ireland Executive.
But it said the economic return had been eight times that in terms of jobs and spending by the production team.
Last month, it was announced that Northern Ireland Screen, the government agency that oversees Northern Ireland's film and television industry, would get a budget increase of more than 50% over the next four years.
The move means its budget will rise to almost £43m.
The Department of Enterprise said the additional investment could boost the local economy by encouraging £194m in extra spending.
Northern Ireland has become a popular filming location for international productions such as Game of Thrones.