Lyric Theatre contract: Failed bidder raised concerns over tendering process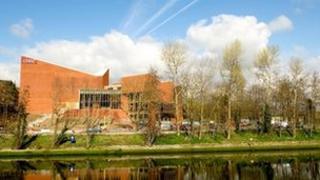 One of the bidders who failed to win a controversial contract to redevelop the Lyric theatre in Belfast raised concerns about the tendering process.
The details were revealed during a session at Stormont's Public Accounts Committee (PAC).
Last year the PAC said it had a "strong impression" the awarding of the £11m contract for the rebuilding of the theatre was "rigged and manipulated".
This has been disputed by those involved in the rebuilding project.
The PAC report centred on the way in which the contract was awarded to the building firm Gilbert Ash.
It looked at the way in which the consultants running the bidding process adjusted the costs in the tenders made by five construction firms.
The adjustment meant that Gilbert Ash, which had initially submitted the most expensive bid, came into line with the other firms.
Gilbert Ash was then awarded the contract on the basis of a "quality ranking".
Six months later, the firm made a £150,000 donation to the Lyric rebuilding fund.
On Wednesday, PAC member Trevor Clarke told the committee that one of the four losing bidders, Graham, had raised concerns but decided not to pursue them legally.
Sid McDowell, the Lyric's vice chair, confirmed that Graham wrote to express concerns and said they would "consider their position", but "nothing further was heard".
Mr Clarke said Graham were "first in the first round evaluation and then moved swiftly down the rankings".
Meanwhile, a former vice-chairman of the Lyric, Sir George Bain, told the committee that the destruction of documents relating to the tendering process had led "to a huge range of problems".
The PAC had been strongly critical of the failure to retain the detailed documentation which shows how the bids were evaluated and adjusted.
Public sector best practice states that those documents should have been retained for seven years, however, the consultants running the process destroyed them shortly after the contract was awarded.
Sir George said it "would have been good practice if the firm had kept these documents and not destroyed them".
He added that this had "led to a huge range of problems for all us, for yourselves and for DCAL (Department of Culture, Arts and Leisure)".
Sir George said that while the PAC did not claim that he and others had rigged and manipulated the bid, that was the impression that had been left.
He said: "You must have realised what would happen when this hit the headlines. It's a very serious charge."
The session was at times heated with some members strongly critical of a radio interview in which Mr McDowell said their findings were "an act of political delinquency".
The PAC vice chair John Dallat said he "nearly crashed the car" when he heard the interview.
Sir George told the committee it was "pretty good at handing it out, a little less good at taking it".