India to hold regular consular surgeries in Northern Ireland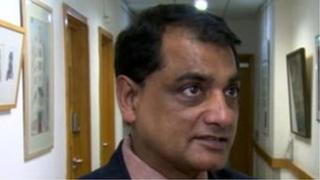 India is to offer regular consular surgeries in Northern Ireland.
The service is being set up to serve the 8,000-strong Indian community and travellers to India.
Previously people had to apply online, travel to the High Commission in London or to an Indian consulate in England to obtain a visa or an identity card.
Officials will travel from the Indian High Commission to the Indian Community Centre in Belfast, to deal with applications and queries.
The first visit is due to take place on Friday and Saturday.
'Suffered'
A consular service had previously been set up by the Indian government, at premises owned by Lord Rana of Malone in County Antrim, but it was closed around 18 months ago.
It offered advice on how to correctly fill in application forms and those who wanted to apply for a Person of Indian Origin card or other documentation could also have their forms attested.
The Indian community in Northern Ireland has lobbied for a more comprehensive service to be set up, for more than 10 years.
The general secretary of the Indian Community Centre, Dr Satyavir Singhal, said the community had suffered in the past and was delighted with the news.
He told BBC Asian Network: "Even on the website, the information was sometimes incomplete or it was out of date. It was also difficult to know if they had received it. You either couldn't get through to them on the phone or your call would not be returned."
The Indian High Commission confirmed that it is due to hold regular consular surgeries in Belfast but did not comment on any of the specific complaints made by members of the Indian community about its online service.
Northern Ireland has seen an influx of Indian nationals over the last few years with an increase in the number of nurses, IT workers and other professionals from south India, who travel home regularly.
Dr Singhal said that the new facility would also benefit non-Indians.
He said: "It will probably also help to increase tourism, amongst the local community here, to India and those who want to travel for business purposes will be able to have their documents and contracts attested here."