Lisburn court cleared over coughing fits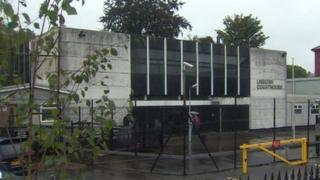 A County Antrim courtroom had to be cleared due to the suspected spraying of an unknown substance that made dozens of people cough.
It happened in Lisburn courthouse on Thursday morning and disrupted proceedings inside the packed court.
In between coughing fits, police officers told those present that they believed a canister of pepper spray had been released.
The court was evacuated and proceedings moved to another room in the building.
In a statement, a spokesperson for the Northern Ireland Courts Service said: "Court business was temporarily adjourned for a short period of time following the apparent release of a spray inside courtroom one of Lisburn courthouse.
"An investigation has now commenced into the cause of action."