TUV leader Jim Allister to run in European election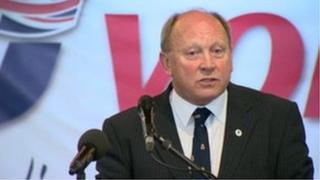 The Traditional Unionist Voice (TUV) have confirmed that its party leader Jim Allister will stand as a candidate in the European elections on 22 May.
He was previously an MEP from 2004 to 2009.
The MLA founded the TUV after leaving the DUP over its decision to share power with Sinn Féin. He is the only TUV representative elected to Stormont.
Mr Allister said the TUV would fight the election on two "complimentary tracks".
He said he wanted to provide the electorate with better representation in Brussels and to allow them to give their verdict on the "dismal, pitiful performance of Stormont".
"We have shown what one determined voice can do. Be it in Belfast or Brussels, TUV is no shrinking violet. TUV delivers," he said in a statement.
He said he would be giving the electorate the opportunity to "pass their verdict" on a range of issues.
Mr Allister said regarding Europe, his party had a "very clear message".
"The EU is not delivering for the UK. As UK taxpayers we pour in £17bn into Brussels every year, and, even with the rebate and grants, we get back barely half," he said.
"In addition, EU membership is robbing us of the right to make our own decisions on such vital matters as immigration, trade agreements and social policy."
Mr Allister has been a vocal critic of the political system of mandatory coalition at the Northern Ireland assembly and said that "government without opposition is not just absurd, but anti-democratic".